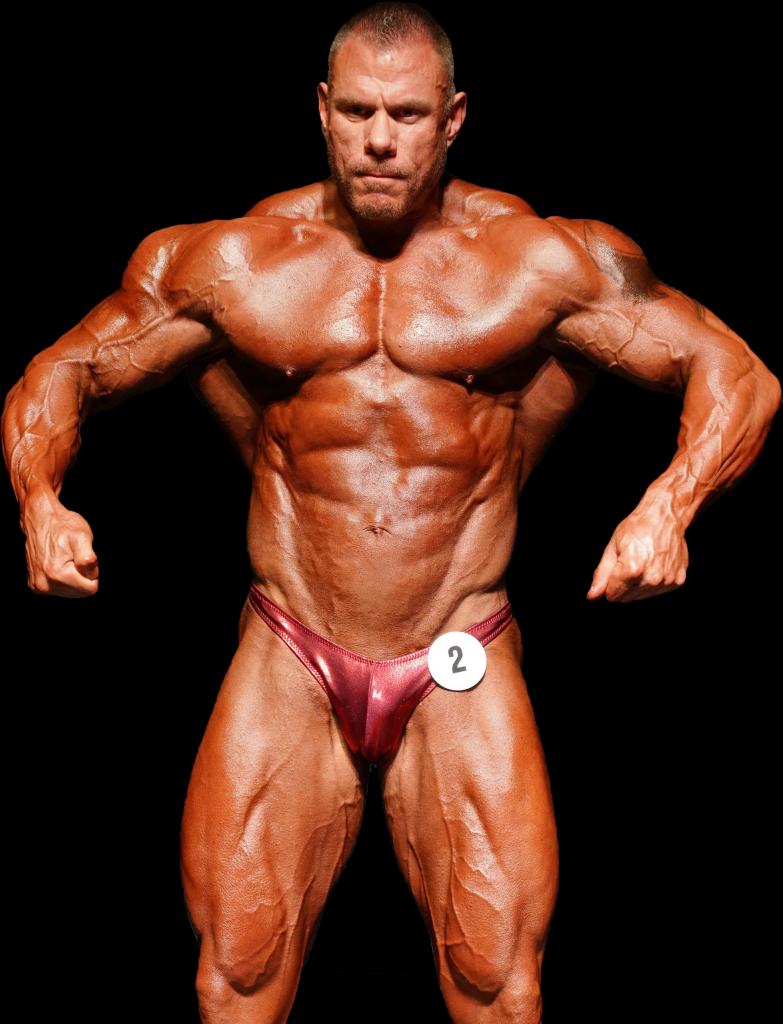 How and when did you get started training for a healthy and active body lifestyle?
I first started training when I was 21 years old. My uncle was friends with a strong man competitor / Canadian Power-lifting champion, and one day he introduced me. Well me being the young and naive punk kid I was I walked up to him and said, "hey man, can I work out with you one day". Well, I showed up and stayed for 5+ years. I got beaten and bettered every single day, but I had the drive and motivation to succeed.
Do you have goal setting techniques? Short term and long term goals?
I feel that in the sport of Bodybuilding you always want to have long term goals, this is a turtle's sport. Now at 45 years old I am in the best shape of my life, you just need to take it one day at a time.
How do you remain motivated? Any tips for anyone wanting to get in great shape and or thinking about competing in your sport?
Motivation has to come from within yourself. Dig deep and ask yourself this, "HOW BAD DO YOU WANT IT".
How do you keep track of your progress?
I track all my works via Microsoft Word, and label them ie… Week 1, etc… I have over 350 weeks of workout's saved. I mostly use them as tools that I pass onto my clients. I track my weight and take pictures and date them. The most important tool I use is the MIRROR and not the SCALE. THE MIRROR NEVER EVER LIES TO YOU.
What types of cardio have worked best for you?
I prefer to use the Step Mill. I hop on and go all out ballz to the wall. No matter if I am 300 lbs or 260 lbs, I go all out.  During the Off-Season, I prefer the Stationary Bike or Treadmill.  I also recommend people having their cardio equipment at home as it makes things a lot easier, and there are no excuses then.
What's your favorite healthy recipe?
I do not really follow any recipes, I am old school.  I do not eat for, "taste", I eat for, "performance".
What does your diet consist off?Fish/Chicken/Steak, Rice, Omega Eggs/Egg Whites, Oatmeal/Cream of Rice, Asparagus/Green Beans, Whey Protein Powder, and of course different Fats.
What are your top 3 exercises?
Incline Barbell Press, Any Chest Supported Rowing movement, Leg Press
Do you listen to music while you train? If yes what type(s)?
I listen to all types of music, depends on the mood I am in. Ranges from Techno, Hard Rock to Heavy Metal.

Do you have any role models or athletes you look up too?
I would have to say myself. By this I am not saying that I am conceded or high on myself, but I am the only one that I have to impress with my physique. This has kept me very humble, even when I am 300 lbs. I am not out to impress any one, I am just always striving to be better and learn more. The one thing about bodybuilding is you are always learning no matter how long you have been in the game.
In terms of your training schedule, how many days a week do you train and what would be a typical training regimen for you?
Sunday – OFF
Monday – Quads / Hamstings
Tuesday – Arms
Wednesday – OFF
Thursday – Back / Traps
Friday – Chest
Saturday – Shoulders / Pump set of Arms
Calves & Abs 2-3x/week
Cardio @ 2-3x / week
What do you enjoy the most about competing in bodybuilding?
The journey you take is amazing.  I also love the thrill of being on stage in front of people and presenting the package that I have just work so hard to achieve after dieting for 16-20 weeks. You get your feedback from the judges, hit your off season and work on your weak points. Repeat, Repeat, Repeat.
What supplements do you take?
Creatine, Protein Powder, Pre-Workout, Beta-Alanine, Citruline Malate
I also take about 15 different vitamins and minerals @ 2x / day etc… Vitamin C, B, E
Digestive Enzymes, Liver Support
What tips would you give to anyone wanting to have an active body physique like yours?
I would say, hire yourself a good coach, listen to what they have to say and follow their direction. Fight of the temptations of fast food by always having extra meals prepared in your fridge.  Get yourself a 6 Pack Bag, and load it up for the day out of travels.